Liitu ka meie uudiskirjaga!
Aztron JUPIT Bamboo 10' 8" aerulaud
Aasta: 2021
899,00 €
34.95 €
Periood(kuud):
3
6
12
18
24
36
48
Vali kogus:
Osta
Järelmaksuvõimalus: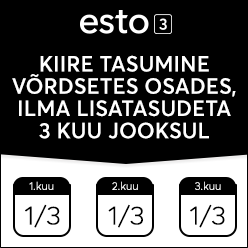 Soovid personaalset pakkumist?
Lühikirjeldus
TOODE ON SAADAVAL NOVEMBRI ALGUSES.


Aerulaua komplektis on SUP aerulaud, turvanöör jala külge ja uim.
PIKKUS  10'8" / 325M
LAIUS  32.5" / 82.5CM
LÄBIMÕÕT  4.6" / 11.75CM
MAHT  210L
MAKS. SÕITJATE ARV  1
KAAL  17.4KG 
Sõitja soovituslik kaal: 85-110KG
Sõitja maks. kaal: 120KG 
FIN BOX  US FIN BOX  
Kirjeldus
Designed for beginners and intermediate riders who are looking to progress quickly, the JUPIT 10'8" Bamboo SUP is perfect for those first steps and will keep you entertained as you progress to your next paddling level. The all-round and classic longboard shape offers an incredibly smooth ride in all conditions while the rounded outline makes those early turns easy. 
Proven to offer the best weight to resistance ratio, the bamboo top layer gives the board effortless flow with its composite natural material. The bottom reinforced fiberglass layer also gives extra solid construction. Packed with enough performance to keep you entertained long into your paddle career, the JUPIT is set to be your perfect partner on the water!

PRODUCT
HARD FACTS
Real Bamboo-Tech construction

CAD sculpted balanced flow curve

Long board shape and rounded outline

Epoxy fiberglass resin bottom 

Flat deck with pulled out to the rails for stability

Wooden stringer insert for stiffness and durability 

Surfing rocker line with flat nose to cut into water easily

5mm thick diamond pattern EVA footpad for maximum grip and comforatable ride

Air vent plug

Front bungee system

10" nylon center fin with US fin box system
Sarnased tooted
Aztron CYGNUS 9`0``surfilaud
299,99 €
Osta
Aztron JUPIT Bamboo 10' 8" aerulaud
899,00 €
Osta
Aztron SUP APOLLO Touring 12'6" aerulaud
999,00 €
Osta